NOKIA sense +
putting the body scale at the center of your home
This project was done in collaboration with the design team of NOKIA in San Francisco and the project development team of withings in Paris. Over a time of 3 months several concepts about the future of connected health devices have been created and in the end one was finalized. The end result is a vision about how nokia's hero product the body scale could evolve in the future.
2018 • single project • 1st year MFA Umea, Sweden •cooperate partner: NOKIA/withings
How might a lifestyle oriented consumer product for nokia digital health look like?
Looking at the big picture
Nokia health core areas & adjacencies
How might nokia's hero product evolve in the future?
I analized the current scales on the market on a "visual expression map". It explores the visual appearence of current scales on the market from known to innovation and traditional to extreme. Nokia is currently placed towords innovation leaning to extreme. Visually there is a place untouched from all the current scales. This opportunity area is on the top left corner innovation and traditional. By integrating advanced technology in a known, traditional shell a new product could be born.
Users currently struggle with:
The neoprene like fabric cover is consists of over 1000 knitted conductive points. This provides electric data for the accurate calculation of body fat percentage & bone structure.
A big focus of the NOKIA body scale plus concept is to create a scale as thin as possible. This was achieved by minimizing the use of material and keeping the components compact.
The scale is comprised of several compact layers. Milled aluminium creates a rigid base for the scale. On top of that is layer of sensors, battery & PCB. A thin layer of copper bridges the conductive connection between the top fabric and the PCB connectors underneath the aluminium cover.
By pulling the nokia brand tag the top fabric is able to be unpeeled. This creates a unmistakably brand element and creates a clever way of changing the top fabric.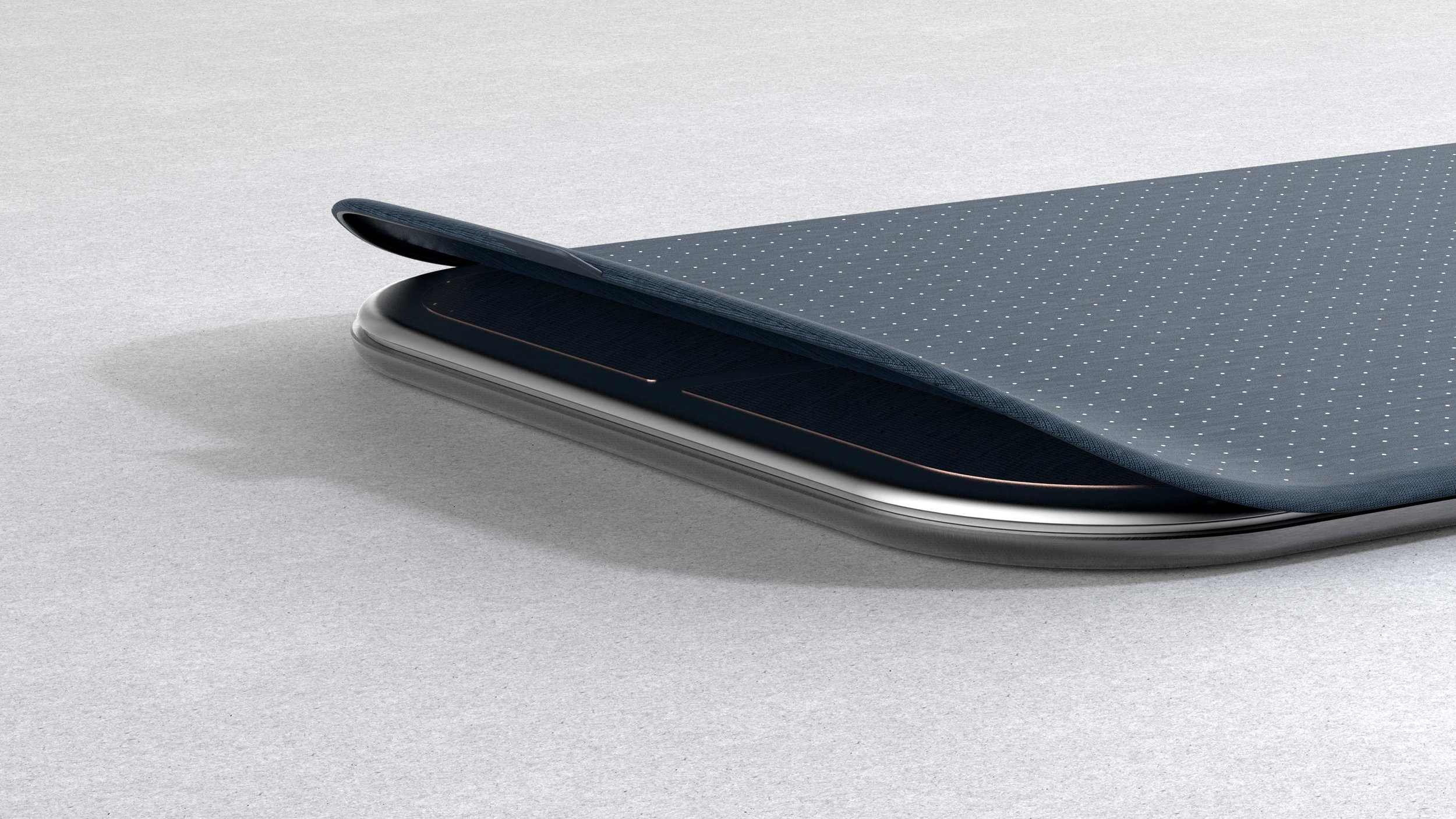 The removable fabric keeps the scale hygenic and allows the user to choose from a range of different styles. Matching the color of the livingroom furniture or being the color spot in the bathroom. No matter what you want the scale appears how you want it.
A carpet with added functionality.